Three heating levels adjustable
Silently constant temperature technology
Long battery life
Washable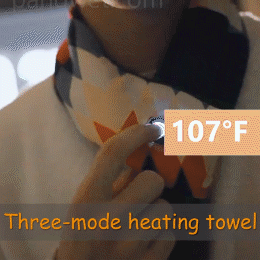 The three-level adjustable heating scarf removes fatigue and relax neck pressure.
Three-level adjustable heating
For people with different needs, there are three adjustable heating levels.
Constant temperature technology
Microfiber heating technology, silent heating for three hours.
Multiple styles
Washable
The USB interface can also be washed directly.
Double inner material structure
Skin-friendly, anti-wrinkle, non-sticky, super comfortable.
Adapt to multiple occasions
PRODUCT SPECIFICATIONS
Product size: 31.9"X3.9"
Net weight: 0.3lbs
Gear position: Three temperatures
Temperature setting: 5w
Rated voltage/power: 5V/5W
Mobile power output: 5V/2A