Ultra high elasticity
Training reaction ability
Cool music lighting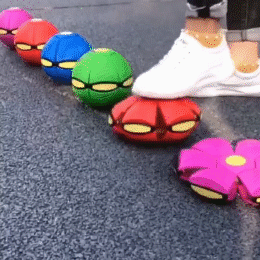 The UFO ball, which can be stepped on, can continuously switch between spherical and flying saucer, so that children can enjoy the fun of sports at any time.
Music light
Cool lighting effects, a UFO ball that can be played at night.
Sports enlightenment
Helps to exercise brain reactivity and hand-eye coordination.
Trains reaction ability to promote bone development.
Ultra high elasticity
Good flexibility, can be squeezed repeatedly, and restore shape in a few seconds.
Multiple game modes
Develop endless ways to play, never weary.
EVA eco-friendly material (safe)
Die-casting thickened treatment, smooth and burr-free, not easy to tear.
PRODUCT SPECIFICATIONS
Color: red, blue, green and purple
Applicable age: 3-12 years old
Jumping height: 23.6"
Diameter size: 7.1"