Desktop Cleaner〖 It has strong suction power, 360° rotating upward wind direction, does not scatter dust, prevents debris from fluttering, and the dust cup is designed for various dust. There are two adjustable levels. It can easily inhale fine particles such as paper net, cake crumbs, rubber residue, soot, etc. Small and portable, easy to keep your surrounding environment clean. 〗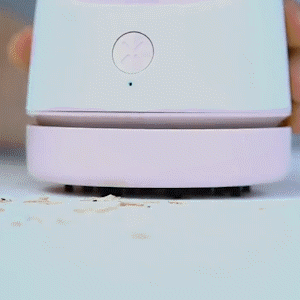 〖 Strong Suction 〗360°rotating ascending wind direction, no dust, prevent the waste from fluttering. Up to 10000rpm, the spiral blades can be easily cleaned, and all kinds of slag can be sucked away.
〖 Two adjustable levels 〗Efficiently collect all kinds of dust, which can be adjusted according to needs, just press the button to adjust the suction power/close the vacuum cleaner, simple operation.
〖 Small size 〗Small size, easy to carry, and not take up space.
〖 Nylon brush design 〗The vortex effect design of the propeller fits tightly, and 8 groups of nylon hair are added to the bottom to easily gather debris on the desktop.
〖 Dust plug 〗Comes with a convertible small-caliber suction nozzle, targeted vacuuming, and deep cleaning of narrow gaps. The cracks in the desk or computer keyboard can also be easily sucked out, and the ashes of the smokers' alcohol can be wiped out. Never worry about the difficulty of cleaning the garbage in the crevice.
〖 Large capacity collection tank 〗The bottom of the desktop cleaner body is equipped with a debris bin which can store the debris for daily cleaning, and gently rotate it counterclockwise to open it for dumping the internal debris.
The cleaning brush is delivered with the package, which can remove debris and dust on the mesh more conveniently and safely.
〖 USB charging 〗Built-in 1200mAh lithium battery, if fully charged, it can provide regular use, the total time is up to 12 hours.

〖 Four Colors 〗Blue / Gray / Pink / Green
〖 Product Information 〗
Product size: 3.4in x 2.9in x 6in
Product net weight: 0.34lbs
Charging voltage: 300mV
Charging current: 600mA
Rated power: 2W
Battery capacity: 1200mAh