Retractable peeler |The combination of the collection box and the peeling knife can peel and directly recycle the peel, eliminating the need for a trash can!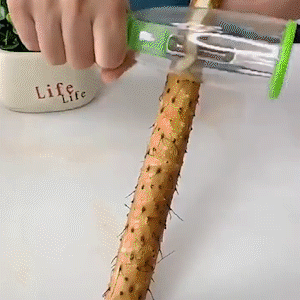 Unlimited venue |With this retractable peeling knife, you no longer need to look for a trashcan all over the place.
You can peel fruits and vegetables anytime, anywhere. Whether in the living room, bedroom, office or outdoors, it is a hygienic and convenient.
Easy to clean | There is a sealed lid on the storage box, which can be cleaned directly and quickly.
Sharp blade | Food-grade 304 stainless steel blades are durable and sharp, making peeling easier.
Non-slip handle | The handle is designed with the principle of ergonomics, to get a comfortable grip, anti-slip effect and safe operation.
Product Size