Strong adhesion
Breathable, comfortable and trimable
Invisible and realistic
Create various hairstyles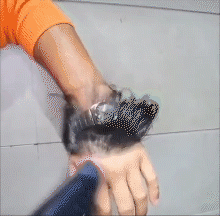 Repair your hairline, invisible and realistic, and create various hairstyles for you.
Strong adhesion (skin-friendly and comfortable)
It sticks firmly and modifies the facial lines without falling off!
Breathable and comfortable
The length can be trimmed, as thin as a piece of paper, breathable and comfortable.
Invisible and realistic
The simulation hair follicle is crocheted, invisible and realistic.
Various hairstyles
Healthy and pliable real hair, creating a variety of fluffy hairstyles
PRODUCT SPECIFICATIONS
Process: Hand-woven eco-film
Color: Natural black
Size: 0.5" x 5.1" / 0.9" x 9.8"
Material: Human hair