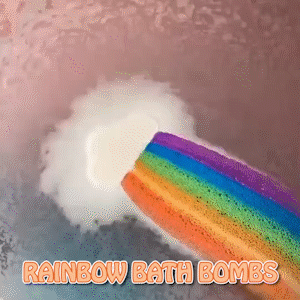 [Romantic Colors]
You bath water will be changed to different colors when the rainbow bath bomb dissolved naturally. No worry about the tub stain since there are no artificial colors. Enjoy your romantic bathing time.
[Natural & Organic Ingredients]
Rainbow bath bombs are handmade with natural & organic ingredients sea salt, natural essential oil and others. No stimulation, no allergies. Vegan available and Paraben-free.
[Moisturizing Skin]
A home spa-like bath will help soften and moisturize your skin, reduce physical discomfort and fully relax yourself after working all day.
[Dreamy Rainbow Fizz and Bubble Effect]
Dropping a rainbow bath bomb in the warm water, it will dissolve immediately, and you will get a fizzing effect in seconds. Bathing could be a funny experience.
[Handmade Delicate Gift Set]
Designed with delicate and dreaming box, this bath bombs set is a great gift choice for your family, friends and yourself on the coming holidays like Christmas, Valentine's Day, Mother's Day, Birthday.
Specification
Weight: 0.24lbs
Package size: 5.63in x 4.06in x 1.42 in
Ingredients: sodium sulfate, tartaric acid, deep sea mud, citric acid, sorbitol, mineral oil, plant extracts