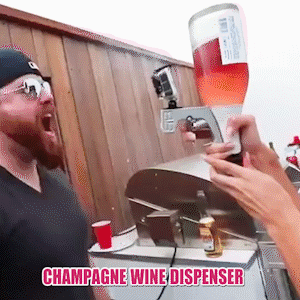 It is efficient and easy to control. When not in use, it can also be used as a cork to keep your champagne fresh for a longer time. Spray like a water gun to increase the party atmosphere.
This corkscrew is perfect for daily use, you can remove the wine corks in a few seconds.
High-quality multi-function tool wine ware, easy to hold, stylish and compact. It can be easily put into your pocket, picnic basket or kitchen drawer at home.
Compatible with any 750mL(26.39oz) champagne bottle. If you want to clean the wine opener, just use a kitchen towel to wipe it clean, it's that simple.
Specification:
Weight: 0.4lbs
Size: 6.1in * 4.3in
material: plastic
Color: pink /silver / red / blue / black / gold