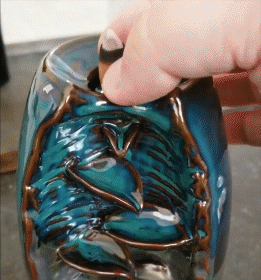 1. Creative Design: Creative ceramic reverse-flow incense burner, left and right blade interleaving design, not only breaks a single feeling, but also smokes, connecting left and right, increasing the sense of hierarchy.
2. Delicate Appearance: Small and delicate, exquisite design and modeling, suitable for decoration.
3. Use on Many Occasions: It can be used to incense in the living room when visitors come. It can create a comfortable atmosphere and purify the air. As an office incense, it can purify the air while reducing mental depression. As a bedroom incense, eliminate fatigue and improve sleep quality. In addition to being a study incense, let a person loosen, eliminate miscellaneous thoughts.
4. Efficient: Fresh air, calm the nerves, help focus, decoration, etc.
Product specifications
Size: 7.9" x 4.1"
Including: 1 incense burner + 10 incense