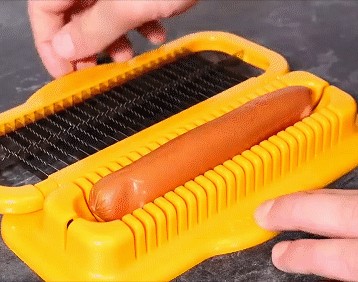 Do you worry about your child choking on large pieces of food? It is perfect for you! It's designed to cut your hot dogs into bit sized pieces quickly and easily.
Simply insert the hot dog and press down, that's it! You'll have perfectly-sized bites for your toddler, reducing the risk of choking. It can cut food quickly, saving precious time for busy, on-the-go parents.
By cutting your food into small and bite-sized pieces, it greatly reduces the risk of choking while they consume their favorite foods. It goes down in one smooth motion, cleanly cutting your food every time!
You can even use it to cut other foods, such as cooked carrots, bananas, and grapes! It can cut any soft food into bite-sized pieces. Plus, the dicer is available by dishwasher for quick and easy cleanup.
If you want to cut your food in easy and small pieces, it is the ideal solution.
Available in various occasions.