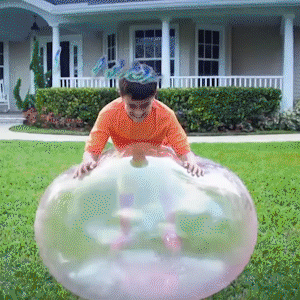 Oversized inflatable funny toy ball. It looks like a huge bubble, but it plays like a ball. Size is 120 cm/46.8 inches, flexible, durable and transparent. Strong and durable, tear-proof, light weight.
The water balloon is the perfect gift for playing with children at home. Lightweight, durable, soft ball, provide indoor and outdoor fun, lightweight, durable, squeezable ball, provide indoor and outdoor fun.
Let the children enjoy activities outdoors, enjoy the fresh air, and have fun at the same time! Inflatable balls, outdoor garden beach.
It can float, swing, dribble, spin, vibrate and make funny sounds. When you finish the game, you can even deflate the bubble ball and deflate it next time.
Water-filled interactive rubber ball outdoor inflatable fun balloon toy, suitable for adults and children. Inflatable beach balls can be used as outdoor toys, parties, birthday gifts, as stools, sports and entertainment products. Inflatable beach balls are good gifts for children.
Specification
Weight: 0.99lbs
Color: Blue, Green, Pink, Yellow
Package Included: 1 Balloon
Size: 46.8 inches (after inflation)