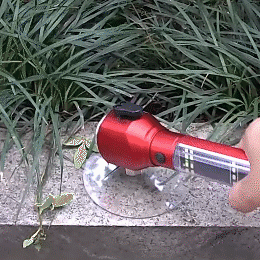 T6 bright wick, strong brightness, suitable for patrol, home, car and outdoor lighting.
LED side light + solar panel, energy saving and environmental protection, convenient and fast.
Lamp holder safety hammer and inner blade design
It can be used to escape in emergency, and the built-in blade will not accidentally cut.
USB charging, fast and convenient, can be used as a power bank for power supply.
Bell button
The bottom buzzer alarm, press the alarm bell to sound, and the direction can be clearly distinguished.
Strong magnetic adsorption function
Easily attached to the car shell or iron objects, easy to use.
Product specifications
Size: 8.5" x 2"
Weight: 0.7lbs
Color: red / black