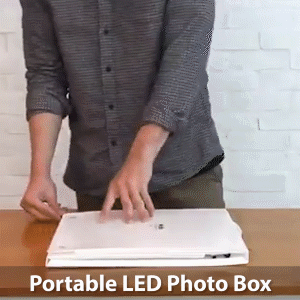 Description
Perfect for shooting items like jewelry, toys, electronics, cosmetics and so on.
The tent eliminates unwanted reflections and shadows, great for small and medium products images.
Convenient and collapsible, great for your on-the-go lifestyle! Lightweight and compact for easy transport.
A perfect pickup for the aspiring shutterbug! The item is used by various professional photographers for excellent results.
White and black non-reflective backdrops are better to highlight the details and texture of the stuff, allowing you to take impeccable and studio-quality pictures.
Specifications
Materials: PP
Size: 8.9" x 9" x 9.4"
Color: White
Package include:
1 * Photography Box
1 * Black Background
1 * White Background
1 * Connecting Cable