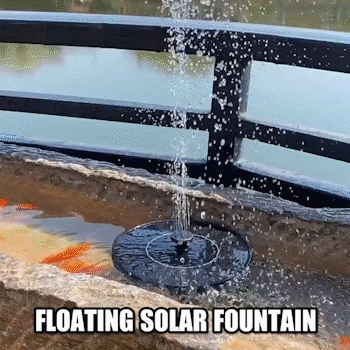 A beautiful and effective water feature for your garden! Running on solely by solar power, this fountain kit is equipped with an affordable and efficient pump that requires no electricity or batteries!
Runs automatically, no battery or electricity needed. The simple design means no messy wires will be present and features suckers at the bottom of the kit to stay in a desired place or float freely on water.
Replace the nozzles for different water effects, and put the kit in direct sunlight for best results.
Multiple fountainheads for different water patterns.
Different water style and gentle burbling.
Suitable for bird baths, fish tank, small pond, garden decoration, water circulation for oxygen.
Easy cleaning and reallocation, no plugs required, small and compact.
Max. Water Height: 11.8in - 19.6in
Product Size
All in 1 Nozzle: 7.5 x 7.5 x 2.9 inches
Flower-Shape: 6.7 x 6.7 x 0.8 inches
Round-Shape: 7.5 X 7.5 X 2.5 inches
Built-in Battery Model: 7.5 X 7.5 X 2.5 inches
Product Weight
All in 1 Nozzle: 11.6oz
Flower-Shape: 10.6oz
Round-Shape: 9.88oz
Built-in Battery Model: 15.4oz
Package Component
All in 1 Nozzle:1 X All integrated All in 1 nozzle bird fountain, 1 X suction cup to fix the fountain, 1 X replacement filter sponge
Flower-Shape / Round-Shape:1 x bird fountain kit, 4 x fountainheads, 2 x attachments
Built-in Battery Model:1 x Bird Fountain Kit, 4 x Fountain Heads, 2 x Attachments