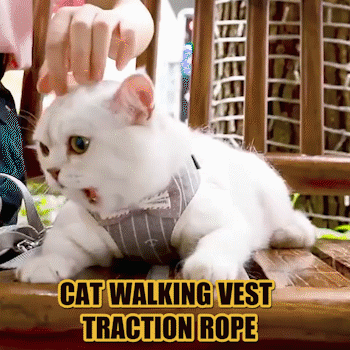 Creative design
Trendy style, breathable and anti-stroke, make your cat look cute and charming to attract everyone's attention when going out.

A variety of styles to choose

Adjustable bust
There are three sizes, S/M/L. At the same time, the size can be adjusted according to the bust, so that the cat can be worn comfortably, and the neck will not squeeze.
Safe and anti-static
Velcro + strong buckle allows pets to travel safely, double protection, naughty cats are also difficult to break free.
Lightweight
Chest back + traction rope, the weight is as light as 0.16 lbs, reducing load and traveling easily.
High quality
Soft sponge inner filling, thick P plastic buckle, healthy and environmentally friendly. And high-strength light zinc alloy, wear-resistant and corrosion-resistant.
Product information
Material: sponge, plastic, zinc alloy
Weight: 0.16lbs
Size: S / M / L
The reference values are as follows