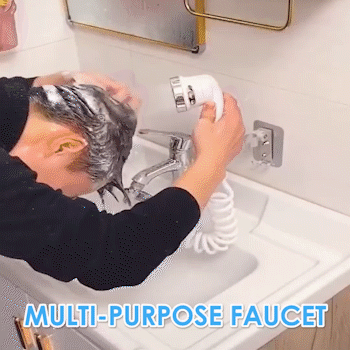 Punch-free: external shampoo shower, small punch-free bracket, not taking up space.

Pressurized filtration: three-speed adjustment, boosting pressure and saving water.
Independent control: dual-purpose water diversion valve, dual-control switch, multi-function and flexible use.

Universal interface: compatible with various household faucets.

Water diversion valve: does not affect normal use, and there is no need to worry about affecting the water flow of the faucet after installation.
Long link: the link line is 4.9ft long, enough for daily use.
Easy to install
Four styles
Package A: regular functions
Package B: One-key water stop function
Package C: One-key water stop function + three-speed adjustment
Package D: One-key water stop function + three-speed adjustment + bright silver
Product information
Installation method: spiral
Main material: ABS
Size: as shown