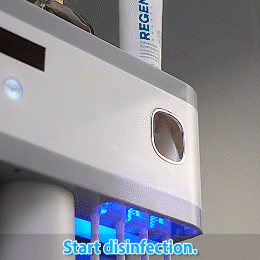 Product Information
Magnetic hanging mouthwash cup, easy to drain, clean and sanitary.
Sterilized version
Five minutes of regular cleansing, double sterilization, and 360° purifying brush head, make it more comfortable to use.
After the sterilization starts, the ultraviolet rays will be automatically turned off until the sterilization is completed.
Multifunctional toothbrush holder, which integrates toothbrush holder + 2 toothpaste squeezer + storage in one, does not take up space, convenient and practical.
Detachable cleaning inside, no worry about dirt accumulation, simple and convenient to clean.
Specification:
Material: ABS
Weight: 1.2lbs/1.7lbs/2lbs/2.4lbs/2.6lbs
Color: Black, Gray, Pink
Version: normal version/sterilization version
Size:
8" x 4" x 5.2"(single cup)
10.8" x 4" x 5.2"(double cup)
13.6" x 4" x 8.3"(three cups)
16.4" x 4" x 8.3" (four cups)
19.2" x 4" x 8.3" (five cups)