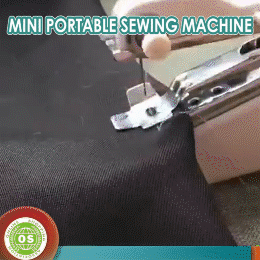 Description:
The hand-held sewing machine is a small, handy, lightweight and easy to carry.
It is really funny to make your own handkerchief, apron, gloves, cloth with this practical machine.
Repair drapes without taking them down, repair clothing without taking it off, repair bedding without stripping the bed, etc.
Requires 4 AA batteries or a power adaptor(not included).
Perfect for craftsman or DIY enthusiasts to use at home.
Specification
Storage bag size: 7" x 4.8" x 1.2"
Sewing machine Kits:
1 x stainless steel scissors
1 x long measuring tape
30 x assorted hand sewing needles kit
40 x multi colors sewing pins
40 x color spools of thread
4 x snap buttons
2 x safety pins
3 x buttons
1 x aluminum thimble
1 x hatching pen
1 x metal crochet hook
1 x plastic crochet hook
1 x magnifying glass
1 x plastic needle threader
1 x storage bag