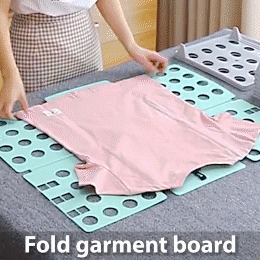 Made of high-quality and durable PP material, strong toughness, good ductility.
Just 3 steps and 3 seconds, even a kid can do this, very easy and convenient.
A great tool provides an easy and convenient way to folding clothes. Start cleaning up the mess of your closets and drawers with this magic folding boards.
Fold practically anything in all T-shirts, short- and long-sleeve shirts, collared shirts, pants and more.
This amazing system makes clothes flatter and neater, giving you more room in your closet, drawers and suitcase.
Product specification
Version: Normal Edition/Upgraded Edition
Size: 9" x 11" (folded) / 26.8" x 22" (expanded)
Weight: 1.4lbs
Regular version
Upgraded version