Rule:
Don't fall into the trap of the opponent! See who can get the final victory!
Each player rotates the spinner in turn and removes a square according to the color displayed on the spinner.
The one who makes the penguin fall off the block loses the game.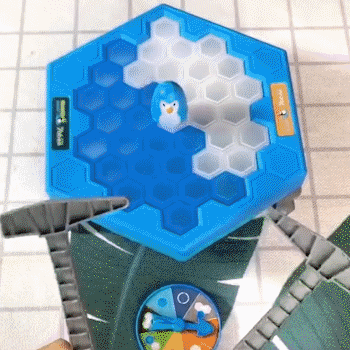 Promote the coordinated development of children's hand, enhance the child's ability to respond, and exercise the child's brain development.
For 2~4 players, not only to develop your child's mentality, also increase the fun of parent-child interaction, training children's hand flexibility and hand-eye coordination.
The installation process is very simple, adults and children can easily start. Made of high quality plastic, eco-friendly, non-toxic, safe and durable.
Package Included:
1 x Game Arctic Field
1 x Game Turntable
1 x Penguin
19 x Blue Ice Cubes
19 x White Ice Cubes
4 x Columns
2 x Hammers
Specifications:
Material: Plastic
Size: 6.69" x 5.91" x 0.67"