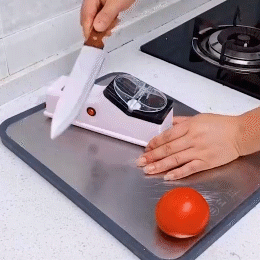 Say goodbye to the troubles of sharpening
Better grind yet force-saving, one-button opening is safer.
Quick sharpening
Made of special materials, just put the knife on the sharpener, it will be completed in less than half a minute.
Before and after use
Suitable for various tools
Compatible with tools made of iron, steel or stainless steel.
Special scissors slot
Quick results, cutting speed, sharp blade.
Product specifications
USB current: 5V/2A
Size: 23.5" x 9" x 6.5"
Color: White
Material: Plastic