Stabilize tire pressure, prevent tire blowout, and extend tire life

Tricolor changes visible tire pressure, real-time monitoring

Stainless steel material, wear-resistant and durable

Rotating thread, good sealing

Simple installation, just gently screw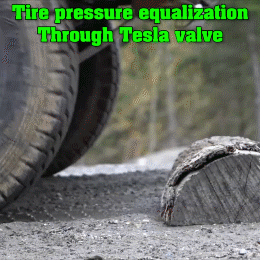 Tesla valve structure

(to protect tires)
The tire pressure stabilization cap is equipped with a Tesla valve structure, which balances the internal pressure of the tire through the principle of the Tesla valve. The strong air pressure can instantly reduce the pressure through the Tesla valve structure and output stable air pressure to avoid excessive pressure in the tires to burst.
If the tire collides, it can instantly stabilize the tire pressure, protect the tire and extend the life of the tire. Avoid tires from colliding with hard objects and causing unstable tire pressure and bursting.
Transparent design, real-time monitoring of tire pressure
The visual tire pressure display design can monitor the tire pressure in real time, and the three-color change can understand the tire pressure in real time to extend the tire life.
Green

tire pressure is normal
Yellow tire pressure is low (Need to inflate or repair and check tires)

Red

tire pressure is too low(need to repair and check)
Know the tire pressure of the car at a glance and check it instantly to ensure your safety every time you travel.
Stainless steel material, wear-resistant and durable
Made of stainless steel, the gas nozzle is not easy to accumulate snow on clay, wear-resistant and corrosion-resistant, and can be used for a long time.
Rotating thread, good sealing
The use of precision thread technology and built-in sealing ring not only has strong sealing and air-tightness, but also shows extremely high texture and delicate quality.
Simple installation, just one screw
After cleaning the valve, align the valve and rotate it slowly until there is no air leakage. Use a simple wrench to fix the nut in the opposite direction.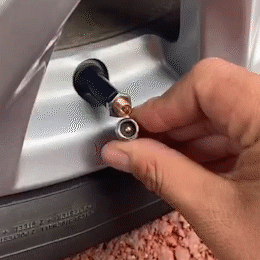 Stainless steel core
Not only will it not be corroded or deformed, but it will not easily be blocked by foreign objects to cause air leakage and accidents.
PRODUCT SPECIFICATIONS
Features: equalize tire pressure and protect tires
Applicable models: General
Specifications: 0.91" x 0.39"
Quantity: 4 pieces
-Suitable for any car, work on any color vehicle-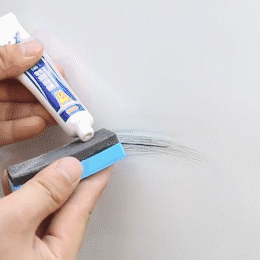 Repair of minor scratches in the paint will not cause damage to the paint surface.