Adsorption wall driving
Smart chase driving
Long-lasting racing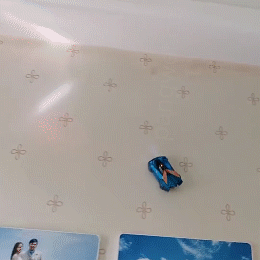 Adsorb the wall
It can be tightly attached to the wall, glass, etc., and will not fall.
Smart follow light mode
Built-in 3 light sensors, turn on the light car to chase automatically.
Three driving modes
You can fly freely on smooth ceilings, walls, and floors.
Multiple competitive games
Anti-interference, fast response speed, support multiple cars competing at the same time.
Long battery life
USB power supply, lasting battery life, up to 2 hours.
Principle
Strong vacuum adsorption force
Body weight reduction material adsorption.
PRODUCT SPECIFICATIONS
Car size: 5.5''x3.1''x1.6''
Handle size: 5.7''x2''x5.1''
Color: blue/red/green