Features
Simple to Use
Quick Setting
Adjustable Wind Direction
Adjustable Curling Iron
High Compatibility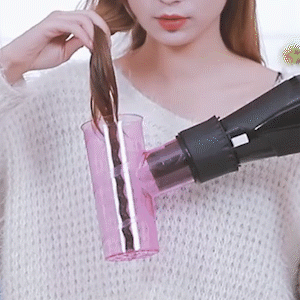 Simple to Use
Curly hair can be achieved in just 2 steps, and the styling can be completed in 2 minutes. Different styling can be completed with one tool - natural curling magic curling tube, such as air-feeling natural curling, etc., for meeting your different needs.
360° Evenly Heat
The hot air forms a whirlwind in the tube to blow the hair around the coil. The hot air blows the circling hair to achieve a curling effect. This process is purely hot air blows the hair and the rotating hair can be heated by 360 degrees, simple and safe.
Adjustable Wind Direction
You can adjust the direction of the curls by adjusting the wind direction. Turning to the left is a beautiful inner curl, and turning to the right is a sexy outer curl. Adjust as you like.
Replaceable Coil
Detachable and replaceable curling irons, hold the curling barrel tightly, rotate the back cover, and then take out the back cover to replace the curling irons.
Plus Curling Iron:The hair is automatically wrapped around the curling iron with the wind to achieve a more stable curl.
Without Curling Iron:The hair will spin in the curling tube for free curling.
Equipped with two curling irons: Replaceable curling irons, easy to handle large and small curls.
High Compatibility
The curling barrel interface not restricted in a model or brand of hair dryer, as long as the outlet is straight and the outer diameter is between 1.65in and 2.36in.
Two Colors
Product Information
Interface material: Flexible rubber ring
Material: Polycarbonate PC high temperature resistant raw material
Product size: As shown below