Designed in the avatar of a 3×3-inch cube,In fact, made from 24 different triangular segments that snap together and rotate in relation to each other using a system of internal magnets.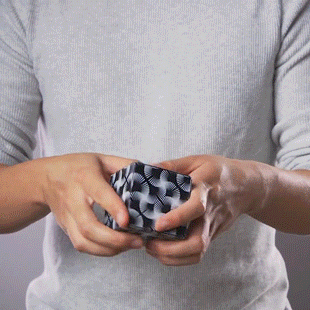 The results, as the gif above should rather appropriately demonstrate, are simply stunning. The cube bends and folds in ways that will confuse, excite, and absolutely hypnotize you.
Each triangular segment rotates freely (thanks to the magnets) to create a whole variety of geometric shapes, while artwork on the cube's outer and inner surface fold and flex as if they're being contorted in the time-space continuum.
What looks like a cube becomes so much more. This patented Award-Winning mysterious magnetic puzzle box transforms into over 70 shapes. Collect and connect 2, 3, 4, or more to unlock 1,000,000+ structure designs.
Each Shashibo is powered by 36 hidden rare earth magnets.
Each Shashibo has 4 art designs – the outer design & 3 inner designs.